Volunteer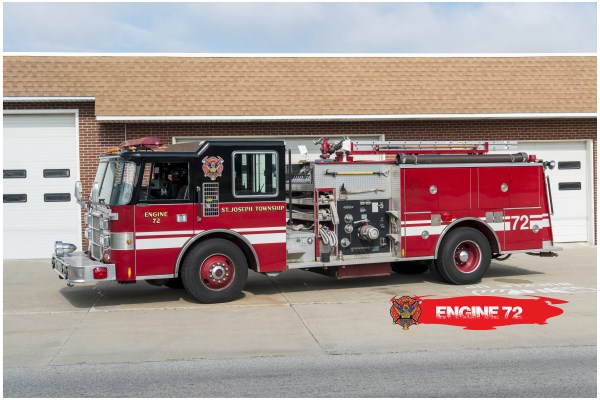 Application: Download
Are you Interested in becoming a member of St. Joseph Township Fire Rescue? We offer two categories of membership: 1) Firefighting and 2) Emergency Medical Technician
Members are required to participate in 20% of calls monthly, or 6 hours each week on duty at the station. The commitment to serve as a volunteer firefighter and/or EMT with St. Joseph Township Fire Rescue is a serious decision and should be made only if you have the time and interest to devote your full attention to the duty required of you. Our web site will provide information needed to help you make that decision. Once you understand what is involved, and realize the many benefits of volunteering, we hope you will find that you are able to make the commitment we need. In volunteering, you will directly contribute to the safety of the community and its citizens. You will find that participation as a volunteer firefighter and/or EMT will be a rewarding experience.
Frequently Asked Questions
Q. What is the cost of the required training? And where will I go for training?
A. The training required of you to complete requirements for membership at SJTFR is free. Training is done at the station as well as at other fire departments in Allen and Dekalb counties.
Q. After my initial training, how much time will I be expected to give as member?
A. Once you have completed your training, SJTFR requires attendance at 20% of calls or 6 hours a week on duty at the station. If you are coming to us with no experience, as most of our members do, there is a significant amount of training that you have to go through your first year. However, we do want to stress the time commitment required to serve as a volunteer.
Q. How much will I pay for my protective clothing?
A. The cost of your protective clothing and all gear necessary is free.
Q. Do I need to live in St. Joseph Township to serve as a volunteer member?
A. No. We have no residency requirements. Although, we do give preference to those who live in the township.
Q. Is it possible for me to concentrate my participation and specialize in either fire or emergency medical service, or must I participate in both areas?
A . Yes, you may choose to specialize in fire or EMS.
Q. Are there age restrictions for volunteers?
A. In order to begin volunteering at SJTFR you need to be at least 18.
Q. Is it okay that I have no experience?
A. Yes! Most of our members come to us with no training or experience. We will provide all of your training.